One of the original 13 colonies of the United States, Pennsylvania is a state that is rich in history. Since the days of the American Revolution, Pennsylvania has been central to American history, culture, and politics. The state is also well known for its natural beauty and wild nature with grand mountains, rivers, and woods across its territory.
The state is physically close to other major metropolitan areas outside its boundaries. The northeastern part of the state is not too far from New York City. Its southeastern portion is not too far off from Washington DC and Baltimore. Last but not least, it's northwestern border offers scenic views of Lake Erie and is rather close to Cleveland and a few hours away from Toronto.
Philadelphia, the largest city in the state is known for its sports teams, cheesesteaks, and picturesque streets. Pittsburg has also been going through urban renewal in recent years and has a lot to offer. Scranton is rich with stunning gothic revival architecture and offers some of the best ski courses on the east coast nearby.
Employment in Pennsylvania
Pennsylvania has been becoming a business hub in recent years. Many major companies have been founded in the keystone state while others came later by choice. In the world of tech, Duolingo and Niche.com have been founded in Pittsburg. Rite Aid's headquarters and Harasco, the global steel producer, have moved to the Keystone state as well.
Honorable Mention: Nanticoke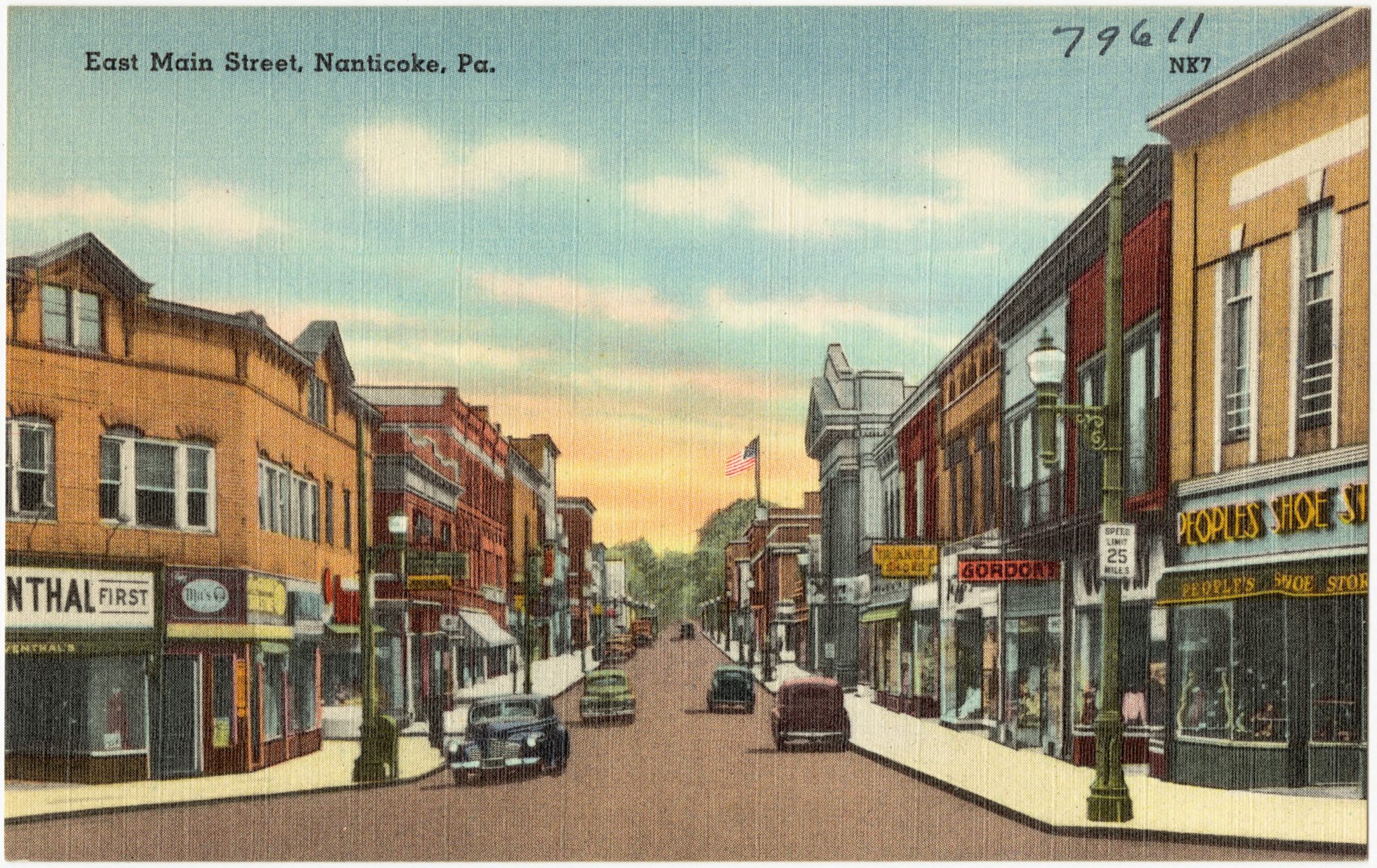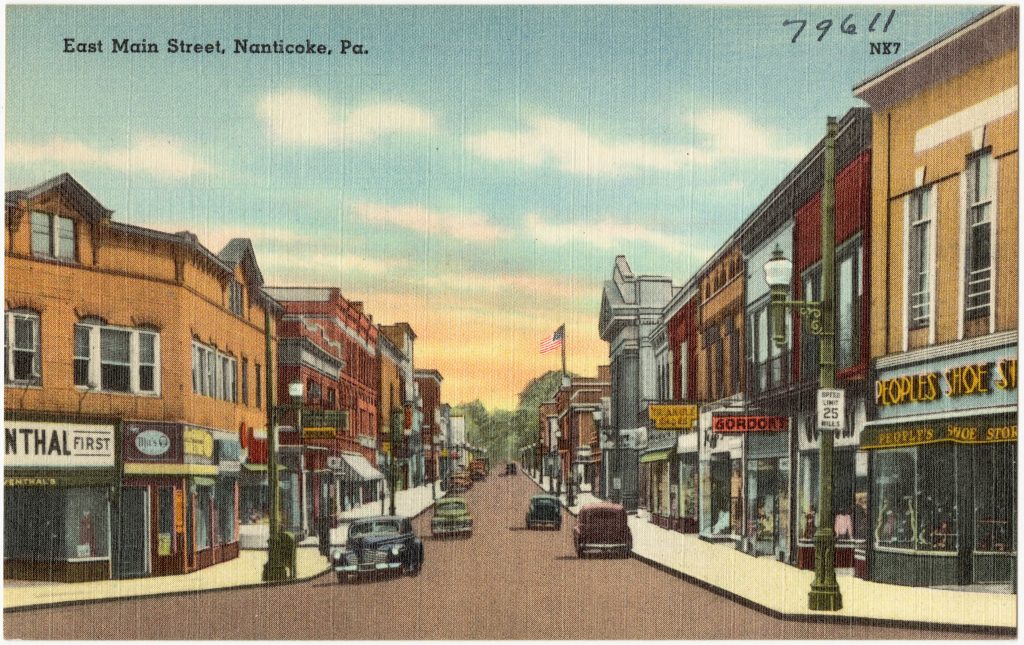 Nanticoke is a small city on the banks of the Susquehanna River just 25 miles southwest of Scranton. Originally it was a coal-mining town that went through some hard times in the mid 20th century. Today it is mostly seen as a quiet suburb of Scranton. Nanticoke is home to a community college and 2 different airports in its vicinity.
While there haven't been any major demographic changes in the city, Housing prices have nearly doubled since 2020. A 25% increase has been listed since 2021 according to Zillow and the average home is an affordable $106,000. Rent on the other hand is listed at $670 per month.
10 – Bloomsburg
Located in the heart of Pennsylvania on the banks of the Susquehanna River is Bloomsburg. The city is home to the Bloomsburg University of Pennsylvania, Bloomsburg Children's Museum, and a small airport. The small city is a quaint university town with a lot to offer. In addition to its unique small-town feel, it is not too far off from Scranton, Philadelphia, and New York City.
As expected from a university town, the wide majority of the population is in their 20s. The rate of home-ownership is very low and listed as 32% in the city. This can be very beneficial to some real estate investors as there is a large market of renters which should make finding a tenet easy. The average home value is listed as $210,000, a 13% increase since last year and the average rent is $760 per month. Bloomsburg's population has increased by 11.8% since the 2000 census, bringing the number of residents to 13,811.
9 – West Chester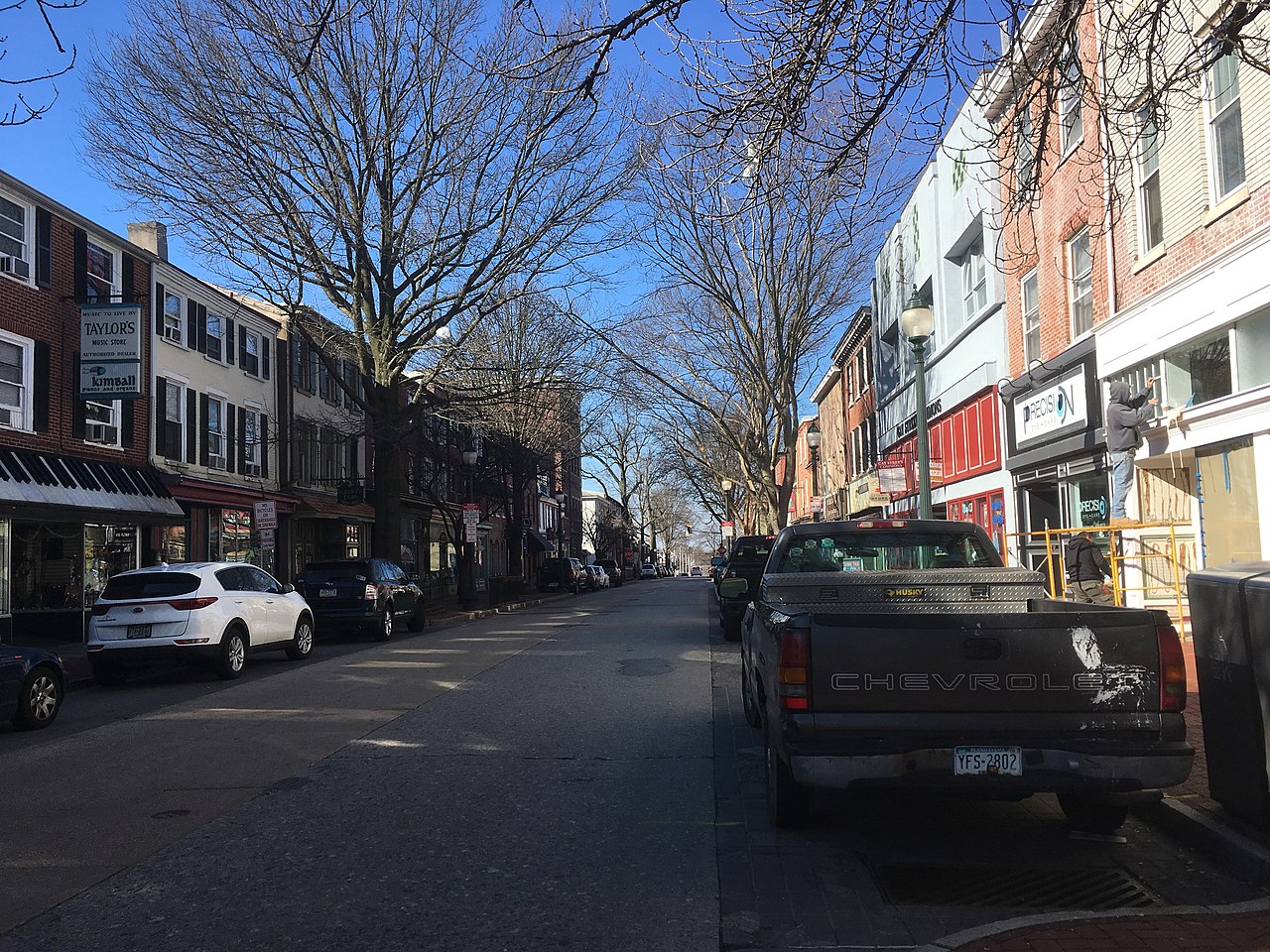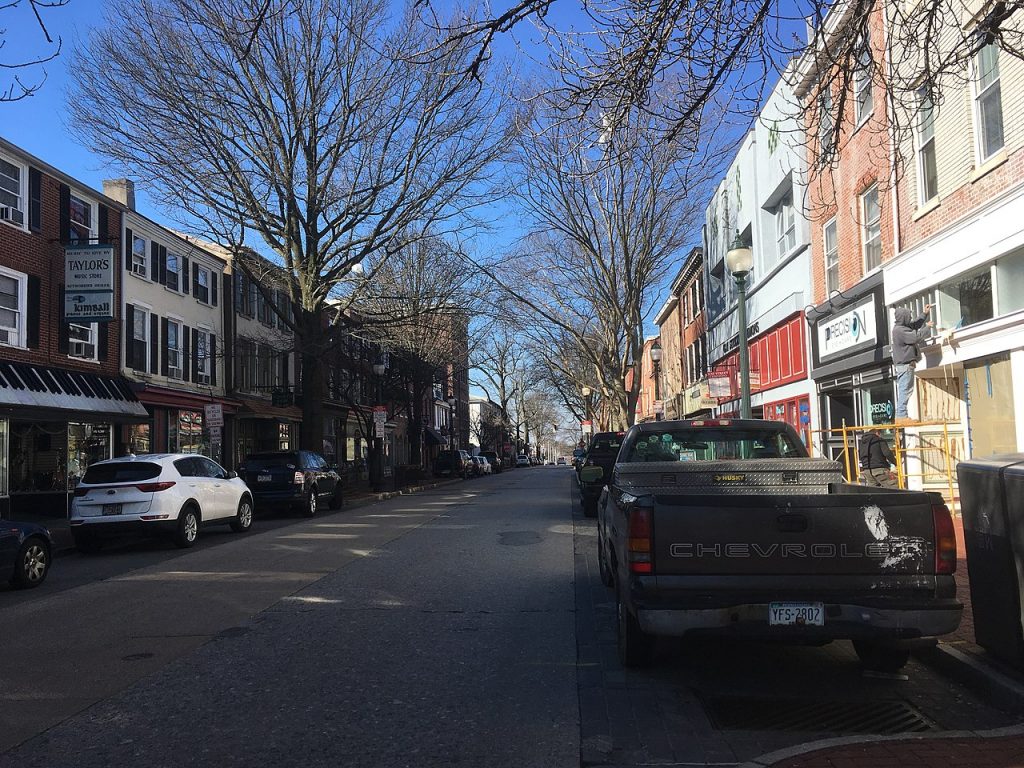 Another relatively small university town based just west of Philadelphia, West Chester has a lot to offer. The town was featured many times on various MTV shows including "Jackass" as well as the film "Marley & Me" due to its all-American look. In addition to West Chester University, the town is home to a few corporate headquarters. This includes the medical company Synthes, VWR International, a scientific supplies distributor, Mars Drinks, and the TV channel QVC.
West Chester has grown by 12% since its 2000 census bringing its total population to just below 20,000 residents. Like Bloomsburg, the majority of the population is in their 20's, and homeownership rates are very low and are listed at 35%. The home value in the city has increased by 11% in the past year and housing costs $520,000 on average. The average rent is listed as $1300 per month. West Chester could be a great opportunity for real estate investors as there is a large rental market, the population is educated, and monthly returns seem good.
8 – Waynesboro
Located on Maryland's southern border, just a stone's throw from Maryland is the city of Waynesboro. The city is physically closer to Washington D.C. and Baltimore than Philadelphia or Pittsburgh. The Presidential retreat, Camp David, and the historical town of Gettysburg where a major Civil War battle took place are just a short drive away. In addition to that Penn State University's Mont Alto Campus is also in close vicinity.
Waynesboro's population is 10,500 residents, a growth of 13% since the 2000 census. Unlike Bloomsburg and West Chester, Waynesboro isn't really a university or college town. The data suggests many young families live in the city. The rate of homeownership is also higher and stands at 48%, although it is lower than the national average. Homes are also more affordable. The average property costs $213,000 and rent is roughly $800 per month.
7 – Allentown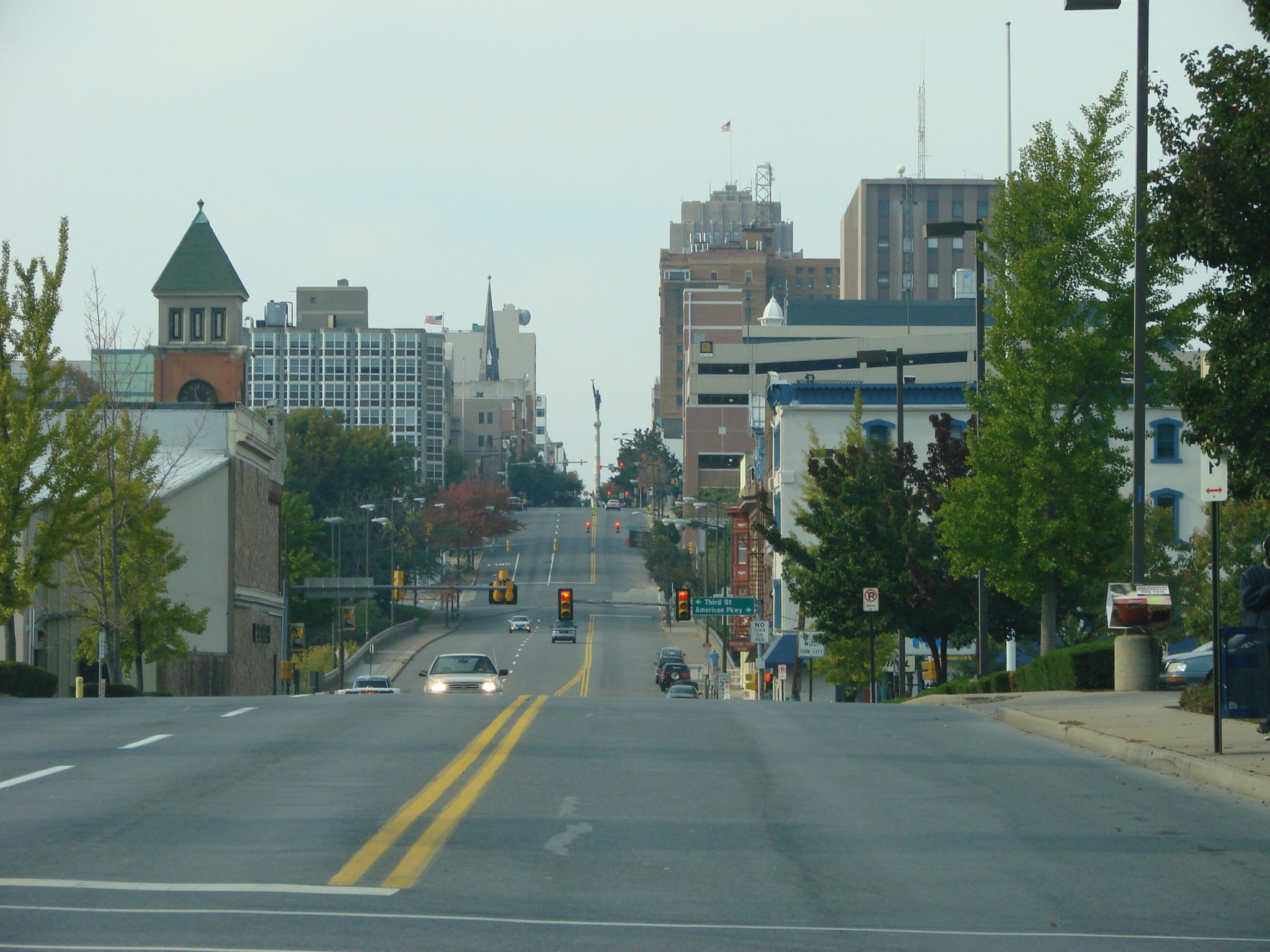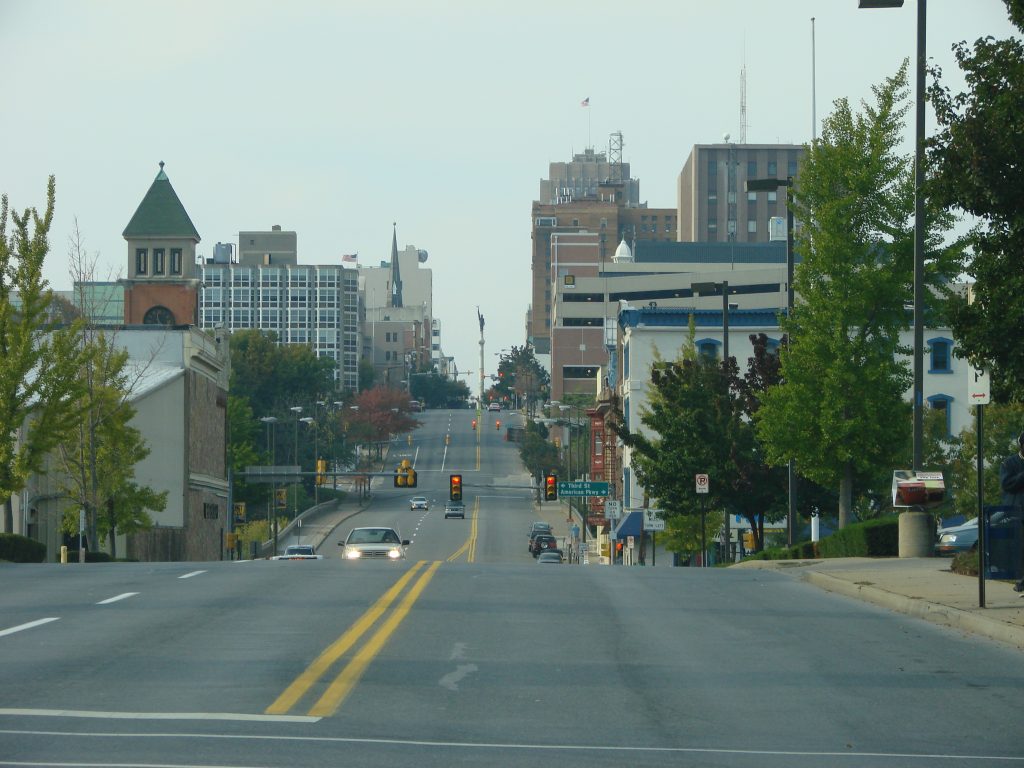 Roughly an hour north of Philadelphia, and an hour and a half west of New York City, is the city of Allentown. The city is bordered by the Lehigh River on the East and is home to 3 different higher learning institutes. This includes Strayer University, Tompkins College, and Muhlenberg College. Allentown is also home to a handful of parks, museums, and even an airport.
The majority of Allentown's population is young, although it is not as clear-cut as other cities on the list. Homeownership is also rather low at 40% meaning that the majority of residents are renters. The average home price has increased by 19% in the past year alone bringing average prices to $233,000 and rent tends to be around $1000 per month.
6 – Jefferson Hills
Just 30 minutes away from Downtown Pittsburgh, on the banks of the Monongahela River sits the borough of Jefferson Hills. The city is known for its rolling hills and beautiful woodlands. Unlike many other cities on the list, there is no higher education center in the city. Instead, it is a quiet and peaceful suburban neighborhood of Pittsburgh, with most of the community working in the larger city.
Homeownership is high within the city with 83% of the overall population owning a property. The number of residents in Jefferson Hills is over 11,000 a 13% increase since the 2000 census. Like the population increase, the average property value has jumped by 13% in the past year. This brings the average property to $217,000 in value while rent tends to be $1200 on average.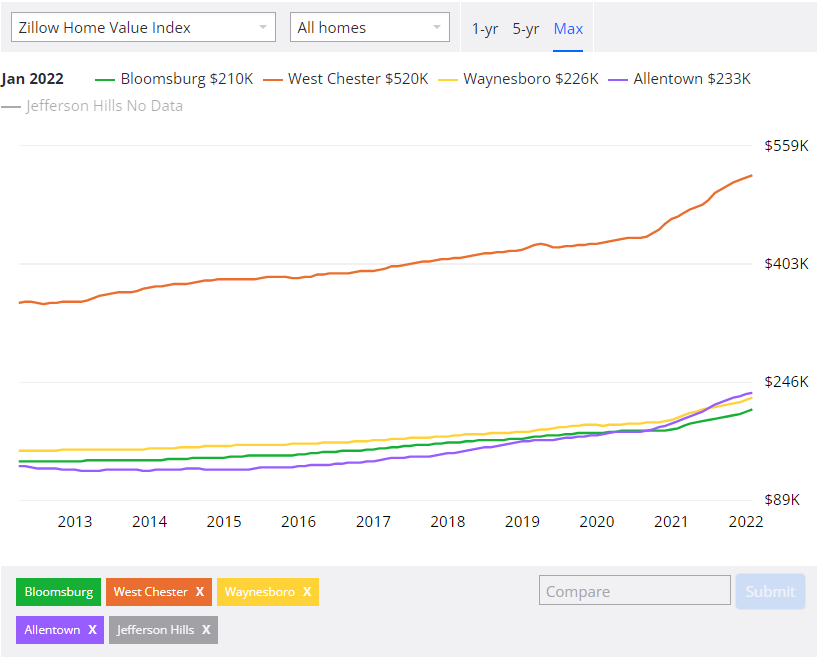 5 – Phoenixville
Phoenixville is a small suburban city located just a bit northwest of Philadelphia. It was known for its many mills and factories in the past but went through urban renewal in recent years. Today it is known for its 10 different craft breweries, a distillery, and wine tasting rooms. In addition to that, the city hosts both the University of Valley Forge and the Lansdale School of Business.
With a 2020 population of 17,004, Phoenixville is the 34th largest city in Pennsylvania. The majority of the population tends to be between the ages of 25 to 35 and educated. Home prices are $411,000 on average a 12% increase from last year while rent tends to be around $1200 per month.
4 – Chambersburg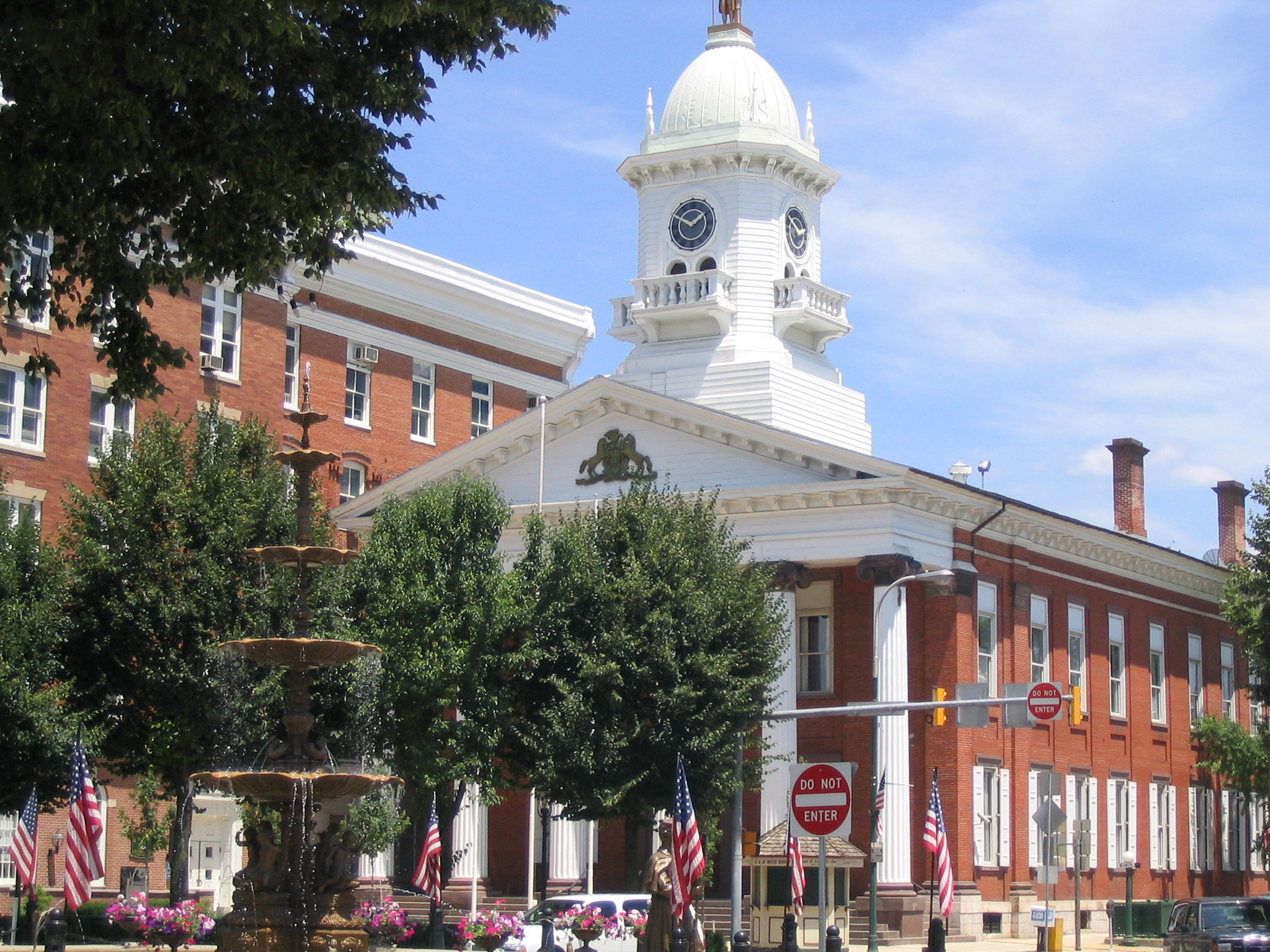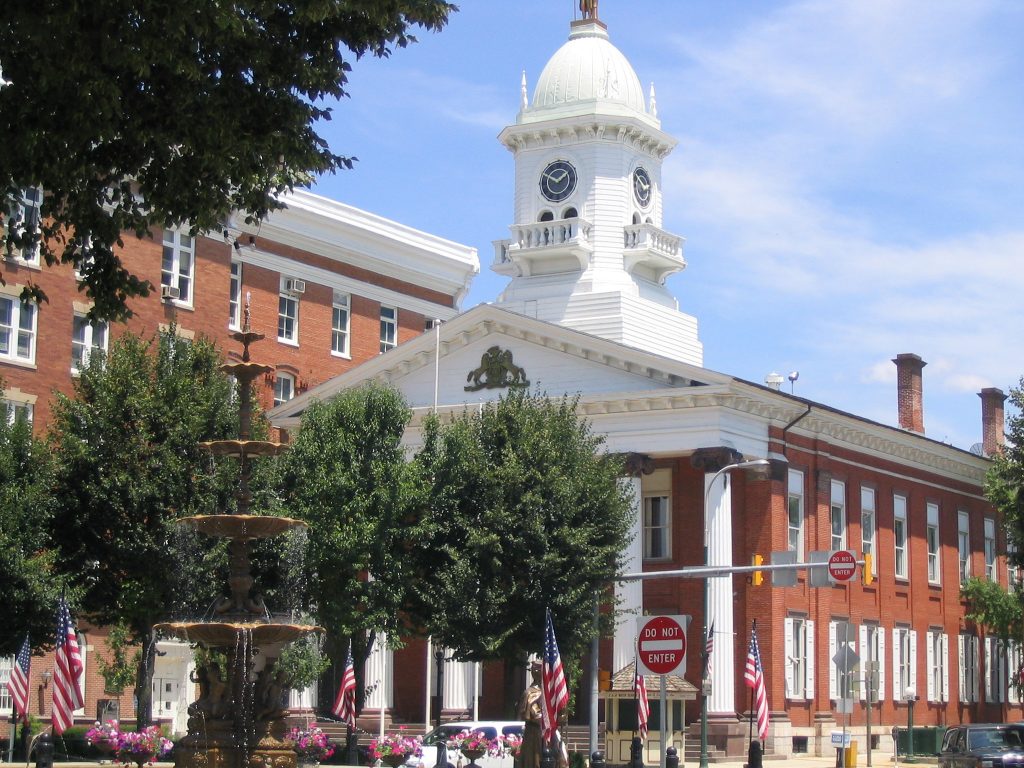 Slightly north of Waynesboro is the city of Chambersburg. The small municipality is surrounded by the Michaux state forest, which offers hiking trails, campsites and a 9-hole golf course. Chambersburg offers an authentic small-town atmosphere and the surrounding area has a large farming population. The biggest employer in the city is the Summit Health Services/Chambersburg Hospital followed by the local school district. Major cities such as Baltimore and Washington D.C. are a few hours away from Chambersburg.
Chambersburg has grown by over 18% since the 2000 population census. The number of residents is 21,600 and the city is growing at a rate of 0.74% per year. Housing prices have increased by close to 15% between 2021 and 2022. The typical value of housing is now $230,000 and rent is an affordable $820 on average per month. Despite not being a typical college town like others on the list, homeownership is low and 54% of the residents rent their property. The low entry price and an active rental market may make Chambersburg appealing to some real estate investors.
3 – Coatesville
Coatesville is a small municipality near Pennsylvania's southern border with Maryland and Delaware. Downtown Philadelphia is also roughly a 40-minute commute from the city. The city used to be known for its steel mills in the past and was even nicknamed Pittsburgh of the east. Today it is more of a quiet suburban town with many of its residents commuting to Philadelphia for work.
The population of Coatesville has increased by 20% since the 2000 census. This brings its population up to 13,000 close to its peak in the 1930s. Today Coatsville is home to many young families, and many residents are children and teenagers. Home ownership rates are very low at 37%, and the majority of the population renting their residence. Average rent is higher in comparison to other cities and is listed as $1,100 per month. The median home value has increased by 15% since 2021 and is now listed as $304,000 on average.
2 – Mount Joy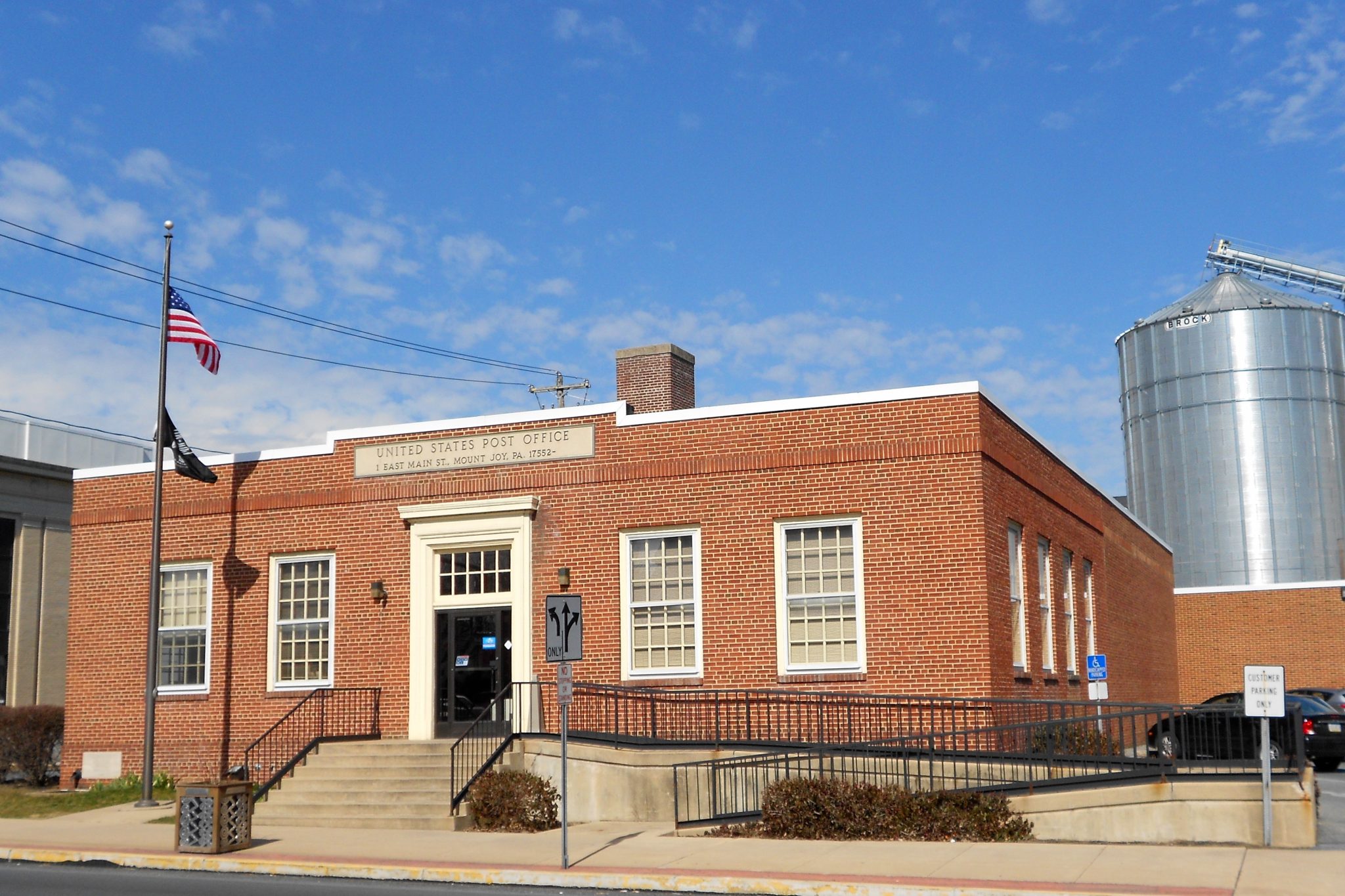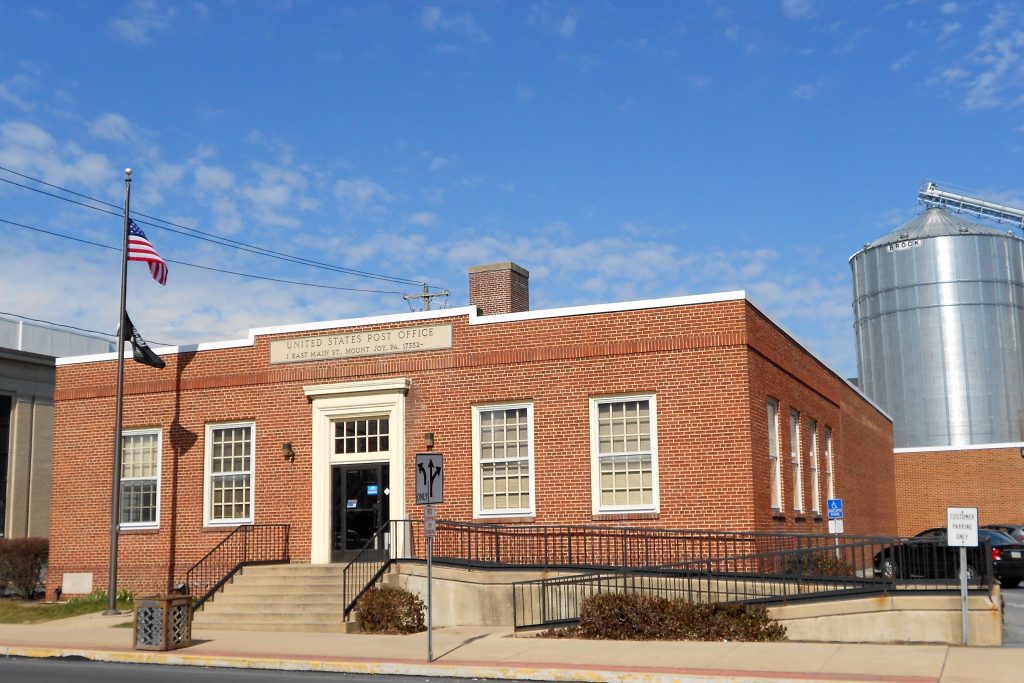 Mount Joy is a small borough in Lancaster County that is commonly named in lists of "delightfully-named towns". Despite its name, the town is not named after a mountain, but rather a ship called the Mountjoy. The city is located between the slightly bigger cities of Lancaster and Harrisburg. Downtown Philadelphia is located roughly an hour and a half away as well. Mount Joy is home to many different parks and the picturesque Little Chiques Creek splits the town from north to south.
Mount Joy has increased by 22% since the 2000 census and has 8,500 residents within its borders. The population is slightly older than other cities on the list and the median age is 37. Homeownership is slightly higher as well with 60% of the population owning a residence. Average rent is listed as $950 per month and housing prices have increased by 15% since 2021. This brings housing prices to $302,000 on average.
1 – Franklin Park
Just 15 miles north of downtown Pittsburgh, Franklin Park is a fast-growing suburban municipality. It is a bit of an affluent and upscale area with 3 different golf clubs in its close vicinity and a handful of parks. There are a few creeks and bodies of water including the Ohio River nearby which could be of interest to those that enjoy fishing. The wide majority of Franklin Park's residences are large single residence houses built in a classical Dutch colonial style.
The residents of Franklin Park tend to be highly educated and affluent. The suburb has grown by over 30% since the 2000s and is growing faster than 77% of cities of a similar size. The average rent is listed as $1,650 per month and the average home value is listed as $400,000. The rate of home ownership is much higher than in other parts of Pennsylvania and is listed at 89%. This can create unique opportunities for real estate investors as returns for the property are high and the number of properties for rent is sparse.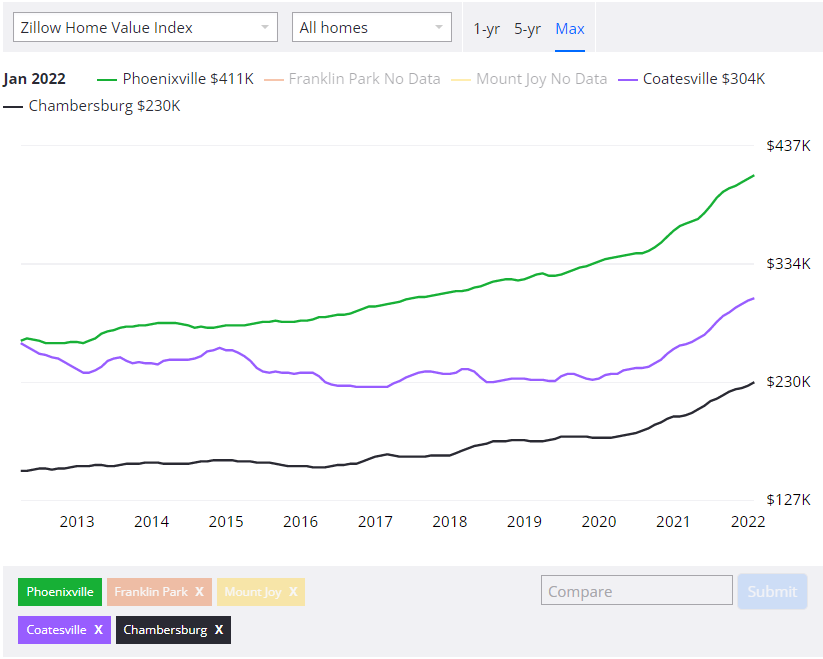 Start Owning Real Estate in Pennsylvania
Interested in financing or refinancing an investment property in Pennsylvania? We can help!
We at USA-Mortgages provide specialized mortgage programs for international real estate investors interested in purchasing an investment property in the US. Additionally, we offer refinancing options to those who already own a property.
We offer an easy, streamlined solution for non-US residents interested in financing or refinancing properties at attractive rates. Our consultants will find the best home loan or refinancing option available and assist you in filling out your application. Make the first step in owning or refinancing a property in the USA. Contact us for more!
*Sources: The US Census Bureau, biggestuscities.com , worldpopulationreview.com , & Zillow.com